Goodreads Book Giveaway US and CA
Enter Giveaway
---
Cover Reveal
The Worst Fake Boyfriend will be part of the My Funny Valentine rom-com collection!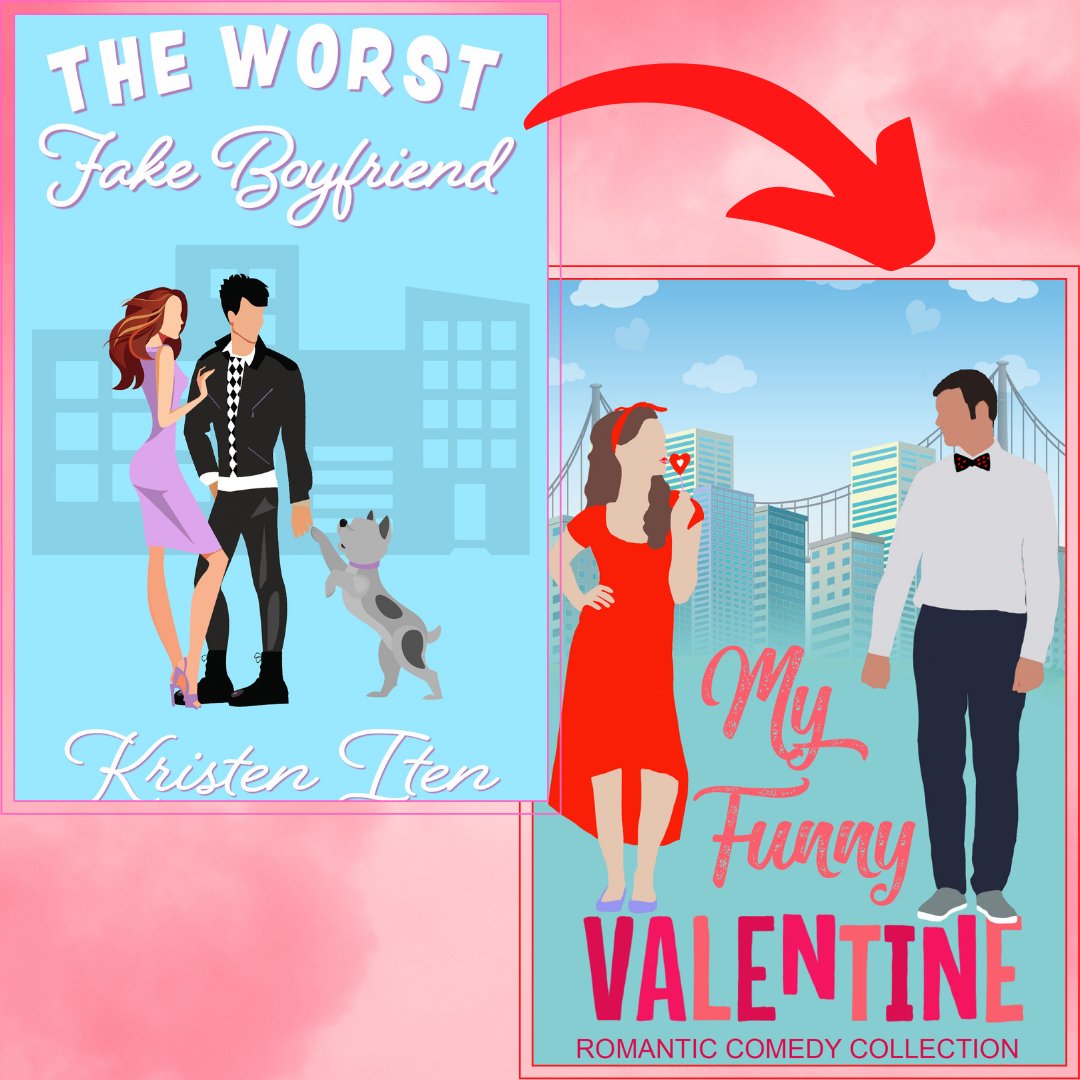 A little teaser from The Worst Fake Boyfriend:
"I needed a fake boyfriend to impress my family. Now, I need him to convince them he's a punk so I can 'break up' with him. But nothing is going according to plan… and now I'm not so sure I want to call it quits."
Pre-order this alongside other 25+ full-length novels for only 99c
If you shop on Amazon despair not, the Amazon pre-order will be here soon!
---
To the Stars and Back is still FREE at all retailers… the offer will be available only for a limited time so go download your copy of this sweet rom-com on me… cheers!

When Hollywood's sexiest bachelor meets the girl next door their relationship doesn't follow the script…
On-screen, Christian Slade is America's favorite heartthrob. Off-screen, letting romance into his life isn't as easy. The women he dates all seem to want a piece of his glamorous life rather than his heart, and trust doesn't come easy for him. Then along comes Lana. A beautiful rocket scientist who's also sweet, smart, sexy, and has absolutely no idea who he is. But what will happen when she finds out?
Will their worlds prove too far apart or could love really be like in the movies?
---
 FREE in eBook at:
---
Available in Audiobook:
 Available in Print:
MEET THE NARRATOR OF THE AUDIOBOOK VERSION OF TO THE STARS AND BACK
AMY MCFADDEN
Amy McFadden has narrated over 400 titles and has a REP to PROTECT in Humor, Romance, Not-Super-Violent Thrillers…and various (often delightfully ridiculous) combinations thereof. STREET CRED: Audie Award Winner The Brink (Short Stories) 5-time Audie Award Finalist in Humor, Lit Fic, Mystery/Thriller and Short Story Earphones Award Winner Romance, Mystery/Thriller AudioFiles's Best Books of 2017 AudioFile's Top 10 Romances of 2016
---
 Praise for To the Stars and Back
Cute, sweet, and fun! Zoe – Whats Better Than Books?
I completely fell for Christian in this book and its been ages since I last felt like this about a book boyfriend. Rachel – Rachel Random Reads
A fabulous, sweet and funny read. Fede – ItaPixie's Book Corner
This book had me smiling away to myself!! It has the perfect mixture of sweet, passion, drama and courage! Michelle – Come Read With Me
A fun read filled with humor, heart, and love big enough to reach…to the stars and back. Recommended read for Contemporary Romance, Chick-Lit, and Romantic Comedy fans. Get ready to be starstruck… Gina – Satisfaction for Insatiable Readers
A fantastic romantic read that I devoured in one sitting.  Kay – Coffee and Kindle Book Reviews
An addictive page turner… with an absolutely wonderful meet-cute.  Julie – Romantic Reads and Such
An exciting, heartwarming story… perfect for Paige Toon fans. Michelle – Baker's Not So Secret Blog
This is a book I couldn't stop smiling throughout. FNM – Book Reviews and More
This is a super read which has lighthearted moments as any good romcom should have. Marianne – Books, Life and Everything
I am not happy with this book… this because… I want more!!! Tiziana – Tizi's Book Review
You can definitely feel the chemistry between main characters. They are so different but they are perfect for each other. To the Stars and Back is an adorable rom-com that made me smile a lot. San – Behind the Sentence
He did the little things that count. Not some big grand showy thing that money buys. He did things that were meaningful to her. Why can't more guys be like this? Proud Book Reviews
It's not everyday the female lead is revered more for her high intelligence, than her beauty…It was nice to see that dynamic between Lana and Christian…the inner workings of going against the grain and following what the heart wants… Sara – Chick Lit Central
I adored these characters…   Penned in my favorite dual POV, the writing style was crisp and engaging, yet also perceptive and loaded with wry wit and clever touches… I zipped through their star-crossed storylines. Honolulubelle – Books & Bindings
I loved the interactions from them at the start, they are worlds apart and it was mesmerising to see how things progressed… and lived for the Notting Hill type moment… Bernadette –  BRMaycock's Book Blog
Get swept away for a few hours and fall under the spell of these wonderful characters and see if love can conquer all. Laura – Laura's Interests
This was such a fun story to read, and one I was able to lose myself in very quickly. If you're into highly romantic, boy meets girl type of novels, 'To the Stars and Back' would be right up your street. Kaisha – The Writing Garnet
I couldn't put it down anymore and I was blown away by all players in this story. Fany – In de Boekenkast
I loved, LOVED this book. Ami-May – Reading Through The Pain
I flew through 'To the Stars and Back', every spare minute of the day I picked this book up and didn't want to put it down. Hannah – Love Books Actually
This is a delicious romcom with misunderstandings, clashings of different lifestyles, friendships, loyalty and betrayals, temporary heartbreak and then permanent happiness… Stephanie – Books are Cool
The perfect weekend read… This was such a fun lighthearted story with some pretty darn fabulous characters! Berit – Audio Killed the Bookmark
I didn't want to put it down. Kate – Everywhere & Nowhere
This novel is a fun, quick and easy read perfect or an afternoon in the sunshine! For fans of Paige Toon and Giovanna Fletcher. Lisa – A Girl With Her Head Stuck in a Book
It's a light-hearted romantic read. Two people getting to know each other without the world interfering. How long can the good times last? Cheryl – Cheryl M-M's Book Blog
If you are looking for a purely indulgent and romantic light read to cure the blues or to to read out in the sun then this is perfect… I completely devoured this fun romance novel… Lana and Christian are both highly likable characters.  Christian is a man in touch with his feelings and will appeal to many readers whilst Lana…  I was delighted to read about a beautiful and strong woman with a high flying STEM career. This book was just the perfect escape for me and I was really sorry when it ended. Kerry – Herding Cats
The book is perfect for fans of Rom-Coms and with two more books in the series being planned this is a fabulous series to invest your time in. Stacey – Whispering Stories
This was the first time I have read a book by Isley and what a magical experience it was.  I loved this sweet and funny read. Jolene – Babydolls and Razorblades
I adored the absolute contrast between our main characters – a superstar, Hollywood actor and a super smart rocket scientist who has absolutely no idea of who she happens to meet in a cupboard and who she has that instant connection with.  Who wouldn't like the romantic gestures a Hollywood heartthrob could throw your way?! … I read it in one sitting because I was really involved. It's an easy read, light and a really sweet tale. In keeping with a rom-com film. I will look forward to reading more. Jenn – The Comfy Chair
From a storage room meet-cute, there springs an unlikely relationship — a rocket scientist and a film star — that involves a lot of laughter and hurdles, of course… An easy, quirky read that will keep you glued to the end even if you are quite sure of the Cinderella ending. Finitha – Know Your Books
The plot was really good, it was fun, sweet and a genuinely feel good read.  The characters were well developed and their personalities were great, I loved the contrast. I loved being able to follow the story with them, seeing them developed and the ending was great- the book had the perfect mix! Donna – Donna's Book Blog
---
Other Books in the Series: